| | |
| --- | --- |
| Posted on 20 February, 2016 at 16:00 | |
The fantastic Thai Night returns to Bar Emilio on Wednesday 16th March 2016 at 7pm
A three course Thai meal for 14 Euros per head. Choices from our special menu selection.
(Bookings Only)
Starter
Vegetable spring rolls
Thai Mussels, White wine, coriander, chilli and coconut milk
Main Course
Thai green chicken curry with aubergine and basil
Prawn stir fry in tamarind with cashew nuts, garlic and coriander
Thai chicken panang with aubergine, lime leaf and sweet pepper.
Sweet
Brownie with fresh cream
Fresh fruit cocktail with ginger syrup
| | |
| --- | --- |
| Posted on 20 December, 2015 at 23:00 | |
We are opening specially to celebrate Robert Burns on the anniversary of his birth on 25 January 2016 with a Burns Supper which includes haggis, whisky and more and a lot of laughter and fun. Reservations required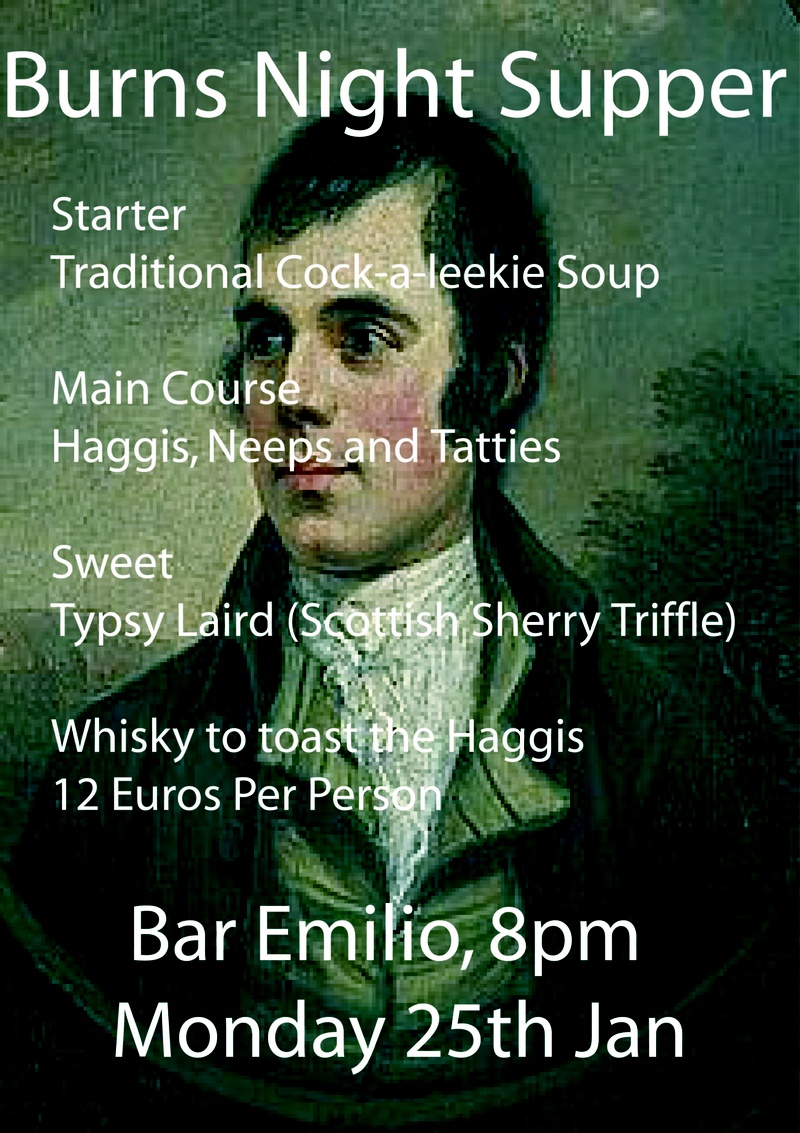 | | |
| --- | --- |
| Posted on 20 December, 2015 at 17:00 | |
Paella Lunch at Bar Emilio on Sunday 17th January 2016 at 2pm. 6 Euros per person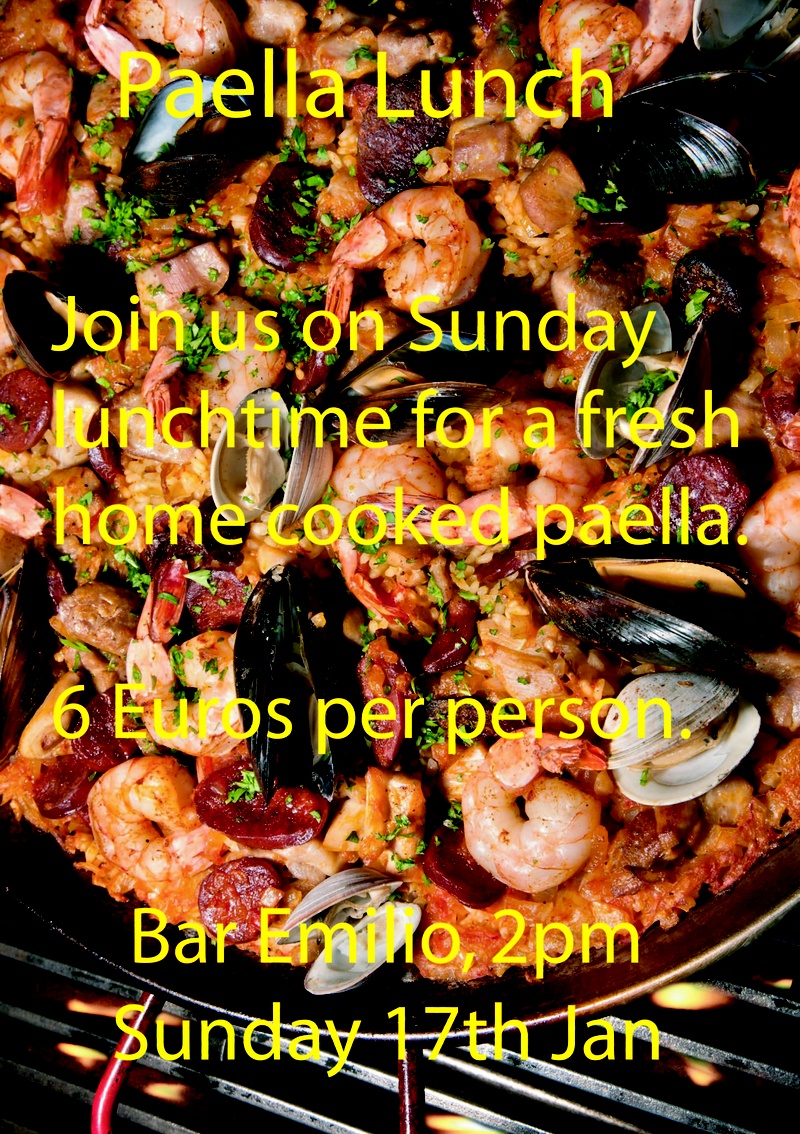 | | |
| --- | --- |
| Posted on 20 November, 2015 at 16:00 | |
Pre Christmas Party Lunch. 10 Euros per head. From 12 midday on Wednesday 16th December.
Caros of 12 Days of Christbas sing along.
| | |
| --- | --- |
| Posted on 20 November, 2015 at 13:00 | |
Sunday Roast Dinner for 6.50 Euros from 2pm on Sunday 13th December. Booking Necessary
| | |
| --- | --- |
| Posted on 20 October, 2015 at 11:00 | |
Thai Night at Bar Emilio on Wednesday 11th November 2015
A three course meal for 12 euros per person. Booking is essential, first come first served.
Starters
a) Springrolls
b) Chicken Coconut Soup with Lime Leaf, Lemongrass & Coriander.
Main Course
a) Thai Green Curry with Chicken, Bamboo, Aubergine and Thai Basil
b) Red Curry with Duck, Lychee, Tomato and Basil
c) Wok Chicken Noodles
Dessert
a) Pineapple Flambé with Coconut Ice Cream
b) Key Lime Pie
The ever popular Thai Cuisine Evening from 8pm on Wednesday 24th June 2015
Three course meal for 12 Euro per head (payable upon reservation).
Starters :-Chicken Satay or Veggie Spring Rolls
Mains Courses :- Thai Green Chicken Curry or Yellow Prawn Curry or Beef Stir Fry
Desserts :- Chocolate Brownie with Vanilla Ice Cream or Profiteroles
************** S O L D    O U T ****************
********** Sold Out Again *********
The return of the very popular Thai Cuisine Night with guest Chef Yuppa. Please book early as this was a sell out on the last event.
Starter Choices:
Vegetable Spring Rolls
Warm Beef Salad with cucumber, tomato, shallots & fresh chilli
Main Course Choices:
Thai Green Chicken Curry with Aubergine, bamboo and basil
Masaman Curray with potato, onion and peanuts
Chicken with Cashew nuts, mixed peppers, onion and paprika
Desert Choices:
Lemon Cheesecake
Pineapple Flambé with coconut ice cream
Fixed price for three courses 12 Euros
Sunday Roast Lunch  (1pm to 3pm)
Bar Emilio is please to announce the first of this years 'Special Dining Events' with Executive Chef Marcos
Starters : Homemade Cream of Tomato Soup
Main : Full Roast Dinner (Chicken or Pork) with all the normal trimmings
Fixed price of 12 Euro's per person including coffee.    Advanced Bookings Required.
A special Event - Thai Evening with Guest Chef Yupa - Three course Meal Taiwanese Cusine
Starters
Vegetable spring roll or Thai mussels prepared with fresh chilli, ginger, coriander and basil
Mains
Thai green curry prepared with bamboo,
Thai aubergine and basil Thai red prawn curry prep with fresh pineapple, cherry tomato and basil
Wok vegetable for the veggies all served with rice
Afters
Mango sorbet or Coconut cream caramel
All in at 12€ (drinks to your own preference and paid for at the bar)
Book earliest with your menu choices
/